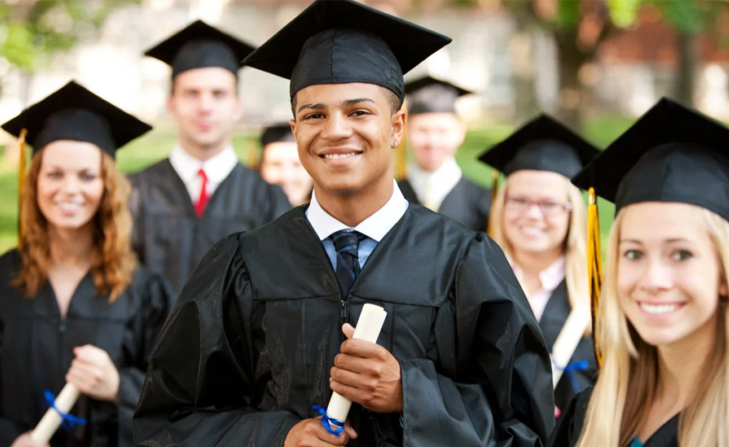 College Scholarship
Guide
Some believe love, at first sight, is a myth. But, I don't, because I experienced it - and it was as real as anything. And no, it wasn't a gorgeous woman, who I couldn't stop staring at (by the way, I am straight). Well, if it wasn't some amazingly beautiful woman, then you must be wondering who (or what) it might have been that caught my eye and found its way to my heart. Any guesses? Well, it was a college. Yes, you read it right – A COLLEGE!
As soon as I saw the picture of that college building, I knew this was it - I was, by all means, going to graduate from there. I couldn't stop daydreaming about it. And though, I didn't have the resources, I still graduated from there.
Wondering how I managed to do that? Well, the answer lies in an 11-letter magic word – SCHOLARSHIP!
If I can study in a prestigious college despite the lack of resources, you can too – through a scholarship. If that sounds interesting, read along to find out exactly how scholarships work and how they can help you get to your dream college – a college that you might have fallen in love with at first sight.
Scholarship – the key to unlock your dreams:
Now, you might argue that loans can help you get an admission to your dream college as well. While it's true, you can't ignore the fact that loan has to be repaid and it costs a lot. On the other hand, a scholarship is a gift and you don't have to pay it back. Hence, it makes sense that you make all the efforts to make sure you get a scholarship – rather than going for a loan.
Now, scholarships comes in all flavors – you have to know which one is the best for you.
The key comes in different shapes – make sure you have the right one! (Types of scholarship)
| | | | | | |
| --- | --- | --- | --- | --- | --- |
| Academic | University | Demographic | Needs Based | Career, Major, or Industry | Athletic: |
| Any scholarship awarded to someone based on exceptional academic performance or some extraordinary achievement can be counted as academic scholarship. | Some schools have ongoing financial aid programs and if you are lucky you can get a scholarship directly from the school | Yes, this one is granted based on your gender or your association with a particular ethnicity. | Some scholarships are granted to students who have a financial need. You have to provide evidence of the need to avail this scholarship. | Companies or sometimes governments offer scholarship to students pursuing a specific field. If you have interest in a particular field, make sure to check if there is a company that is willing to sponsor your education. It might save you some money. | Well, if you think you are an outstanding athlete in a particular sport, this is the type of scholarship that specifically for you |
You have to check and see if you fit the eligibility criteria for the scholarship you are applying for because all of these scholarships have some criteria and requirements that you have to fulfil in order to benefit from them. Check and see which one suits you the best!
The key to using the key

?

how to apply!
Since all scholarships are different, they all have different requirements – but there are things that are common among almost all the scholarships.
An Essay
A scholarship essay is something you can't afford to mess up. Hence, it only makes sense that you do all you can to make sure your essay is nothing short of excellent. If you think you don't have the skill to write an excellent essay, hire a college essay writing service to do it for you – because as I said, you can't mess it up.
Letter(s) of recommendation
What is it?
As the name suggests, a letter of recommendation is a letter written by someone you know who can vouch for your abilities. The purpose of this letter is to convince the scholarship-awarding body that you are the right candidate for the scholarship – because the competition is fierce and honestly, not everyone who applies for a scholarship gets one. So you have to make sure your recommendation letter is a powerful one because it just might be the difference.
Who should write it?
So, you have to make sure that the person writing this letter of recommendation is someone with authority – which the scholarship-awarding body also recognizes. The perfect example could be your professor. Hence, by all means, get your professors to write the recommendation letter for you.
How to get it written?
Since it's not your professor's duty to write the recommendation letter for you, and it's a favor that he has agreed to grant you.
So, it only makes sense that you help the recommender and facilitate him in the process. Here are some of the ways you can do it;
- Provide the name of the scholarship and its general requirements.
- You could even structure the letter in advance and allow the recommender to fill in the details.
- Include envelopes and postage if the writer is to mail the letter indirectly.
- Provide examples of your accomplishments.
- Follow up.
Interviews
Well, for some of you, this may not seem like that tough of a task, while for others, even hearing the word "interview" triggers a stress response. But that's nothing to worry about – especially when there is a solution. So, if you are one of those who get nervous about the idea of an interview, the best way forward for you is to practice and prepare beforehand. The better you are prepared – the better will be your chances of doing well in the interview.
A Deadline
Imagine you write the best essay and get an amazingly written recommendation letter, and you have even prepared for the interview – so well that you are absolutely sure you are going to crack it. Now, when you look at the calendar, you realize that you have missed the deadline. That is the worst thing that could have happened.
Hence, you need to conscious of the deadlines so you don't find yourself in a scenario similar to the one I just mentioned. Plan ahead and start early, so you are done with the process before the deadline
Living your college dream!
If you follow these guidelines and do things the right way, chances are, you will get the scholarship you are after. And once you do that, you should focus on the next step.
After you get admission, you are on your way towards your dream. Here are a few tips to make your college fun and easy. I suggest you look for the best essay writing service to handle your college essays – that would make your life a whole lot easier. Another thing that will help you greatly is making friends – trust me guys, they add flavor to your life. And do not forget to have fun, because your time in college never comes back, and the other thing about time is, it waits for none. Hence, have as much fun as you can, while you can!