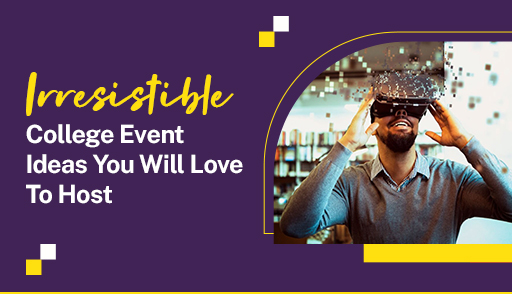 Irresistible College Event Ideas you will Love to
Host
Without events, a student's time in college would not be complete because they allow them to unwind and socialize with their friends while taking a vacation from their studies. To keep pupils interested and motivated, however, it could be challenging to come up with novel and exciting methods. That's why this blog has put up a selection of enticing fun event ideas for college students that you'll adore hosting.
These suggestions, which range from sporting events and music festivals to game evenings and charity events, are sure to ignite your imagination and motivate you to organize the best college events ever. So, either you're an experienced event planner or just commencing out go on for some excellent college event ideas that will have your campus humming!
10 Amazing College Campus Event Ideas That You Would Adore Planning This Year!
Looking for a list of fun-filled yet educational event ideas for college organizations? The below options are the solution to your query!
Cooking Competition
The first one in the array of event ideas for college students is "COOKING COMPETITION/CLASSES". Young adults can meet new people and learn useful skills that will serve them well throughout their lives by teaching a series of cooking workshops. Invite outside instructors to the college or the neighborhood restaurant scene to host a lesson and impart their knowledge on various cooking techniques.
These classes, which can be taken at the beginning or advanced levels, encourage students to prepare a wide range of dishes during the semester. Even the recipes for Christmas cakes, Halloween meals, and other holiday-related foods can be customized. They'll soon be cooking delectable meals for all of their acquaintances and family!
Mental Health Activities
Hosting activities for students during exam week can give them the extra push they need to accomplish that assignment or blow up that test. Seeking some inspiration to get going? Host yoga or meditation sessions to teach people ways to relax more effectively. To prepare them for their upcoming all-nighter, set up a late-night breakfast station with pancakes, caffeine, cereal, and other foods.
Organize a "Donut Stress" event and give away free donuts as a pleasant way to relieve that bothering fear of tests. And to top it all off, invite some service dogs in preparation into the classroom so that the students can play with them and be reminded of their furry pals. They'll value the rationale for a studied pause!
Campus Concerts
Allow students to enjoy their favorite bands and singers nearby in their dorm rooms only a short stroll away! According to your budget, host a variety of concerts from regional artists to well-known performers as one-time special events or as an element of a series lasting the entire semester. Put a poll when students sign up for your performance on the event page, then utilize the results to book musicians you know will thrill the crowd by asking them who they want to see next on campus!
Outdoor Celebrations
A campus-wide outdoor event might be used to start or end the semester. Promote unusual headline events like a hot air balloon ride, a bull ride simulator, a giant obstacle course, a zipline, or whatever else kids rarely have the opportunity to try to get them excited. Likewise, if you provide complimentary food and enjoyable music, pupils will be lured to the event and invite their friends as well.
To increase attendance at your event and get a better estimate of the number of students who will be there, have students register online ahead with their college ID and shirt size for a free-of-charge unique festival t-shirt. Your festival will undoubtedly be the talk of the campus with its special events and free entertainment galore!
Pillow Fight Day
If you don't mind making a little mess afterward, you can throw this incredibly enjoyable event. Pillow fighting is a safe activity that allows children to unwind while also taking a break from the pressures of school. This type of party has a ton of really enjoyable features and one of the main benefits is how simple it is to plan.
Talent Competitions
Your kids will likely be quite eager to participate in talents activities if you have the tools to offer them. This could be a course on coding, study techniques, a competition on political essay writing, or even life abilities. Students may visit to discover more about a topic that would be difficult to learn in the classroom, and they can leave feeling more equipped to face the world. This is a great approach to ensure that your students can profit from their stay in college in the manner that exposure to new ideas and abilities is the whole point of education.
Comedy Nights
Comedy is a well-liked event option for students who are overburdened with examinations, jobs, and extracurricular endeavors because it is a fantastic stress relief. Calling out to a prominent figure to inquire about availability can be worthwhile because comedians frequently include colleges on their tour dates.
Instead, hold an open mic night where you can invite students to perform their finest performances. Promote your comedy show on social media to ensure that it is sold out.
Guest Speakers
Invite guest speakers to address students on current events that are important to them through their narratives, motivational speeches, and worldly wisdom. Or maybe advice on some educational activities like how students can research compelling digital marketing dissertation topics in their final year and so on.
Pitch these gatherings as your college's in-person TED discussion or late-night discussion show, both of which are hosted by eminent academics. The community members, presenters, and alumni you invite to these events will determine whether they are for a small group of significant departments or the entire institution.
Additionally, if you have the money, think about inviting famous people or social media influencers because they'll draw a sizable crowd. Try to include a Q&A period at the conclusion so that students may interact with your presenters as well.
Meet and Greet With Alumni
Meet and greet with alumni is one of the most fun social event ideas for college students. It can be a lot of fun to discuss how things have changed since the alumni's time in college, and many alumni will be willing to offer guidance to all of the students they join at this event. The amount of information and practical expertise that alumni can impart to new scholars can be tremendously helpful, and this event may foster long-lasting relationships between past students and prospective students seeking guidance and encouragement as they begin college.
Ping-Pong Ball Drop
The idea is simple: choose the tallest structure on your campus, and release buckets of ping pong balls from it. It seems rather simple, doesn't it? There's still more, though! There are two methods to add flavor to this game. To drop the balls successfully, you must first set up an obstacle nearby on the ground. Then ask students to put their names on a certain amount of ping pong balls so they can compete to see who can hit the goal the closest and win cash, gift cards, or other benefits.
Second, add in advance ping pong balls that have been appropriately labeled. Students may stand underneath the ping pong ball shower with or without an umbrella and gather the specifically designated balls to win prizes when you drop all the balls from the structure. The social media accounts for your institution will benefit greatly from this experience!
Conclusion
In college, students frequently build enduring relationships and have adventures that shape who they become in the future. By following this comprehensive guide, you can assist in encouraging the appropriate categories of enjoyable and stimulating event ideas for college students to ensure that their time at university is all they had dreamed it would be.
However, if your teacher has asked you to write an essay on the college event ideas but you aren't able to do so because of poor writing skills or some other reason then consider opting for an online college essay writing service and get the best expert writer at your service!
FAQs
How do you organize a university event?
Depending on the kind of event, you'll normally need to set a budget, choose a location, pick a date and time, decide on the activities, choose the participants, and handle logistics like catering and decorating.
What is the best game for college fest?
Depending on the attendees' preferences, common choices include tug-of-war matches, trivia contests, relay races, and scavenger hunts.
How do you have fun at a college party?
At a college party, there are lots of activities to have fun, including talking to friends, dancing, playing games, trying out new foods and beverages, and participating in the music and environment.
Which is the largest college festival?
Depending on the parameters used to define "largest," some of the biggest college festivals worldwide are Springfest at the University of Michigan, the Holi Festival at the University of California, Los Angeles, and Carnival at the University of the West Indies in Jamaica.