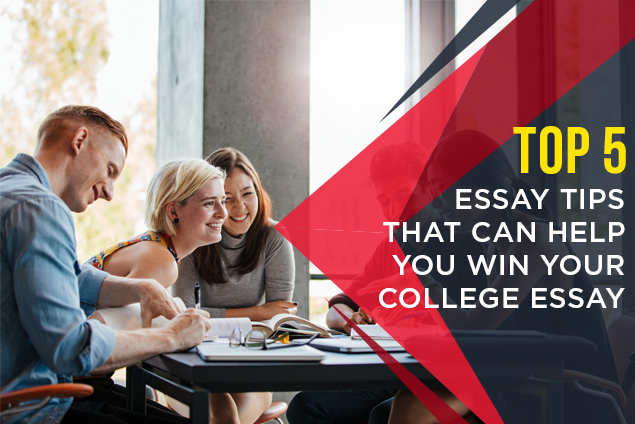 Top 5 Essay Tips that can help you win your College
Essay
I'm going to assume you've already been through the initial torturous process of college applications. But don't worry, the fun hasn't ended yet! You still have a long way to go before you'll actually be sitting in an 8 AM lecture trying not to fall asleep. College essays are one of the most important things to focus on during the entirety of this process because it is something that could make or break your application, which means you'll have to try extra hard to make sure it's up to the mark and showcases your full potential.
Top 10 Essay Topics for Compare and Contrast Essay
Not the best place to brag…
While it is important to highlight your strengths in your essay, making a long list of everything you've ever achieved in life, starting from your first elementary school recitation, might not be the best way to go. Don't worry, you'll get to do that in a different section of the application which will be dedicated to your skills and achievements, so try to keep the essay strictly about who you are as a person. The best and most effective essay will be one which tells your story in a clear and fascinating manner without beating around the bush.
Choose the details you want to include very carefully. Think about what impact you want to have on the reader and select what you want to include in it accordingly.
Telling a meaningful incident or story about yourself will be far more impactful than a long list of achievements and awards you've gotten. Your grades will be more than enough proof of your academic ability.
Get you a candidate that can do both
It's really not sinful to be casual in college essays, in fact, it may even give you a bit of an upper hand. It will give the impression that you're capable of being interactive and casual whilst being in a professional setting. What could be better than a candidate that can do both things simultaneously? It tells them that you'll be able to do a lot more as a part of the institute than just study there. If I talk about my methods of lightening up something this serious, my go-to topics are cleverly worded jokes, puns and self-deprecating humor. While your main task is to take the essay prompt seriously, it would be a great bonus if you made the reader smile as well.
Try to make clever jokes. Your essay shouldn't be too tense or serious
Don't overdo it. You don't wanna seem non-serious or uninterested. It'll give the impression that you don't care enough.
Don't talk about traumatic experiences or things that might trigger negative emotions in the reader.
Open up a little
Oh no, this is where I get stuck. Man, I wish I had someone to write my essay for me back then. But don't worry, unlike me you have a little bit of guidance.
Tell them about yourself. Your character and personal qualities could be a huge asset for you when it comes to college admissions. While other things in the admission process (such as the interview and your extra-curricular activities) reveal bits of your personality, the essay is the most direct method for them to learn about you, because it comes straight from you. Not even the interview might be able to tell them what your essay will because you have more time to think and articulate you point successfully in the essay. Try to squeeze as much of your (relevant) personality traits as you can into the essay without looking like you're trying too hard.
Tell them about yourself. Your personality traits matter a lot to them
Don't rely on the interview completely to let them know about you
Try to make the personality traits sounds quirky and fun and know when to stop. Don't make it sound like an autobiography.
Remember, it's a college essay
The most basic grammatical and punctuation errors sometimes cost students their admission. Remember to make sure your essay looks like a college student wrote it, not a fifth grader. The importance of mechanics is often overlooked, but we tend to forget that this is a part of them judging our brainpower. If you've been taught something since you were born, your college will expect you to at least get the basics of it right. Get someone to help you out if you have trouble with grammar and syntax, but don't just assume that they will have no problem with your errors.
Take special care of grammar and syntax. Reread it again and again to make sure that no mistakes have been made
Get a friend or family member to help you with the work if you get stuck somewhere, but don't completely rely on them
Surprise! You aren't perfect.
Despite what a lot of pop songs these days try to tell you, you aren't perfect. Shocker, isn't it? You're very much capable of making mistakes, but good news! You're just as capable of correcting them. Just pay attention and recheck your work until you don't have time to do it anymore. You better read your essay so many times, you memorize it. Okay, that was a bit of an exaggeration, but you get my point, right? This is one of the main suggestions that you'd get from even the biggest British essay writers UK.
About The Author
Noah Baker is a lecturer at the University of Nottingham. He is a master essay writer with a knack for proofreading and poetry writing. He loves to have long philosophical conversations with people and writing books based on his real life experiences.